5 tags
Fireworks!
In the newest snapshot on top of various small things, 2 major things have been added to the game, fireworks and enchantment books. Let's start with the fireworks. (and for reasons involving trouble with my computers, the images will have been taken off other sites, sorry :p) Obviously for decoration, fireworks are made by first making a firework star, this is where you decide what the...
3 tags
Adventure map: Chronotide
Of all the many adventure maps iv'e seen this is by far one of the best.  The introduction for the map is: A great darkness came to the city of Chronotide and struck at the Chrono Crystal. The energy shockwave shattered the surrounding buildings. The earth split and lava spewed to the surface. It caused chaos and devastation for the inhabitants of the city.In an act of preservation, the...
5 tags
The beacon block
As of the newest update, the beacon block was added, and it is a real pain to get as well, for starters you will need a nether star which is obtained from killing a wither, so go on then. This should only take an hour or so…. and once obtained you put the nether star in the centre of a crafting table with 5 glass and 3 obsidian, like so: after that, you will get this odd-looking...
Yeah this pretty much sums it up
(also i finally got all my old worlds back! Horray for meeeeee!) I will be posting more thing soon-ish, i have just been very busy recently, sorry!
New snapshot 12w42a
A new snapshot has been released for minecraft, this includes  anvils being changed visually and you can repair tools using wood/iron/emeralds, they are also much cheaper to make now, with the bottom three rows of iron blocks now being iron ingots. There are other small tweaks such as the fact that bats no longer trample crops abd don't activate pressure plates, redstone repeaters given a...
Huuuuuge update for minecraft x-box 1.8.2
So this huuuge update pretty much brings the x-box update to nearly the newest version of minecraft on computers, the updates are as follows: Added Creative Mode. Disabled Achievements and Leaderboard updates if the player is in Creative Mode, or if the world has been previously saved in Creative Mode. Added a simple tutorial for Creative Mode. Added sprinting to Survival Mode. Added flying...
7 tags
Snapshot 12w41a can be tested!
Added a new Anvil block for repairing, merging & naming items Three different damage states: Anvil, Slightly Damaged Anvil, and Very Damaged Anvil. Renamed Chat Settings to Multiplayer Settings Contains the old chat settings menu Option for cape-owners to hide their capes ingame Tweaks to debugging F3+H now shows tool and armor durability on damaged items Now shows which cardinal...
5 tags
Tool repairing and mixture of enchantments?
New pictures have been surfacing, they show of tools being repaired in a certain way, (even though they can be repaired already) But these pictures show something even better, take a look! So according to this you will be able to mix enchantments, and repair your tools at the same time!……. how many diamonds is THIS going to cost?????? Well only time will tell, until next time, see...
A possible idea?
So i am thinking about making a minecraft tutorial world, a world/map that could be easily downloaded and played by people who need help in minecraft, message me with ideas or things that you would like to see in this map! 
Watch
ihopemysenpainoticesme: dorymclean: cecilia-rayne: jubilatio: tanatot: irishsoldier: pyromau5: supersugoiautism: squidbunny: mistermay: cosorosso: Your keyboard is now Daft Punk… this is not a video, click on it (via thisissoweird) hi rien It's like you have caught up on the fact that I like EDM. *FLAILS* this is AWESOME mashing ALL the keys ...
7 tags
Redstone part 3 (finally) Mo' traps.
Heeeey sorry i haven't done anything about redstone in…. a looooong time…. but here it is! More traps! Trap number one is of my own design, I call it the fake house trap, you will need 2 pistons (be prepared to lose them) 1 block of tnt, a door, torch, 2 pieces of smoothstone and some redstone (it can differ depending on how you wire it though so carry at least 20 for this...
8 tags
Biomes part six, Mushrooms in the seas,
Time for the final instalment of my posts about biomes, with the elusive mushroom biomes and the expansive ocean biomes. Well, time for the rarest of them all. Mushroom biomes.  Yep, these are the one and only mushroom biomes, although really they should just be called islands, as… well… that's what they really are, and they come in all shapes… and sizes… ...
7 tags
New snapshot! Scary bats and evil witches?
Two new mobs have been added and can be seen in the newest snapshot. (you can download the snapshot here) What does this snapshot have in it? Well, as well as lots of other things, BATS AND WITCHES! :D Why am i so exited? because these to mobs each have something brand-new that has never been seen in minecraft. Let's start with the bats! Bats: Daaaaw look cute widdle bats! They are...
12 tags
Future update snapshot part 3:Those pot plans look...
Ok sorry this took so long but here is the next part of the update that is soon to come out, along with a lot more about the wither! Firstly though, some decorations… Flower pots: Yes that's right now you can put plants in pots GENIUS!                          Well at least there's another use for clay ;) After crafting these you can then place them on the ground and put...
Minecraft Pocket edition 0.4.0 is out!
Just thought i would make a quick update about the newest update for minecraft pocket edition, here it is: New features: Chests to store items Beds to skip night and setting your spawn point Creepers! TNT, and flint and steel to ignite Food items added: apples, bread, mushroom soup, beef, chicken and pork Added recipes: wool from string, green wool and stone bricks Added a Peaceful Mode...
6 tags
Future update snapshot part 2:Dyeing and Dying,...
Well time for part 2 of the soon-to-not-be-just-a-new-update update, coming at you with colours and DEATH. Firstly though let's see the less painful side of things, colouring your armour. Dying your armour: Now who doesn't know leather armour? You can get it at the very start of your minecraft journey, it's cheap easy and….. pointless…. unfortunately when you get...
5 tags
Future update snapshot part 1: Vegetables and...
Well it's that time again! Time for a new minecraft update! (awwwwww yeaaaaaah!) So here is a list as well as a breif description of what is coming up…. 1: Vegetables! More food means more fun!…..or less hunger-induced deaths, whichever you prefer! There are only two coming out but they have different ways of being used, so for the first one… Carrots!  Or is it karot?...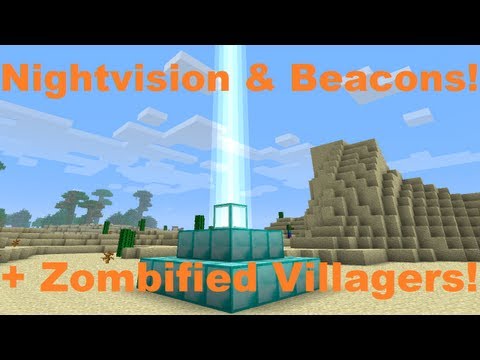 5 tags
Biomes part 5 TAIGAAAAAAS!!!!!
OK so time to do my least favourite biome…. the freaking taiga…. sure it's good for like, 1 or 2 things, but seriously NYARRRRRRG. WHY don't i like this biome you ask? I'LL TELL YOU GODAMN WHY. BECAUSE IT'S THE TAIGA BIOME THAT'S WHY. Firstly though take a look it, so you know what i'm talking about. Taiga *shudder* Biome These biomes are, to be...
Minecraft 1.3.1 overveiw
Hey this is just a quick post detailing some things about 1.3.1 that i didn't mention before. + Single-player now runs a server internally  + Publish the single-player instance to LAN + Automatically detect LAN worlds in multi-player screen These ones mean it is now able to make a single player world into a multi-player world, also it is easier to change multi-player options...
MINCRAFT 1.3.1! WOOO!
So minecraft 1.3.1 has come out, i have already gone through most of the new updates but i will explain some of the others soon, have fun!
Updating soonish
Just got back in school, so i will update soon but as it will be my birthday soon expect  posts to come in slowly for a while.
6 tags
Biomes part 4, Forests, high cliffs (and...
This post will probably be large as i will also look into some sub-biomes, well, here i go! What time is it? ADVENTURE TIME! Extreme cliffs: And no, that is not an over-statement. They really are called extreme cliff biomes, and for a reason. and they are usually even more larger than this! (i couldn't find any other bigger cliffs) now this biome is another personal favourite. Why?...
3 tags
Biomes part 3 Swampy!
Sorry for not updating in a while, here have a free apology. "I'm  sorry" WELP Here is part 3 of my look into biomes, a particularly useful one, swamps. So get your leather boot on, it's gonna be sticky! (that is NOT what she said) Now the even the first looks of this biome makes it look good, lots of useful resources straight off the bat. There are a lot of trees in...
4 tags
Biomes part 2 Deserts...... Just deserts that's...
And yes it is time for part 2 of my look into what makes minecraft minecraft. Firstly it's time for my personal Favourite, Desert biomes. Desert Biomes:  OK so here I am just gonna put it out there, I LOVE THIS BIOME :D! I dunno why really, maybe it's the fact that it makes finding dungeons easy, or maybe it's the way the new desert villages look but from any angle, this biome...
5 tags
Biomes part 1
What are biomes? biomes are…… they are…. ummm…. the thing… *looks up definition in minecraftwiki*  they regions in a Minecraft world with varying geographical features. So that means that biomes are the different types of landscape in minecraft, each with their own different settings such as many trees or snow or water. I will be looking at all the different types of...
Unfortunate events
due to my home computer crashing, any older posts such as the minecraft tutorial and redstone contraptions have been lost :C but i will try to post more on my laptop
GamersHavenNews: Minecraft gets title update on... →
gamershavennews: A new title update has been released for Minecraft on Xbox Live Arcade and it adds an autosave feature with the option to adjust when it occurs. There's now a warning for lava near spawns. Clay generation is fixed, and there'll be no more standing on sugarcane. Killing Zombie Pigmen will now count properly for leaderboard scores. Duplication bug is addressed too. Features: ...
3 tags
Jungle temples and ender chests
Also coming up in the new updates are Jungle temples ans ender chests, first i will explain the simpler ender chest, IN ALL ITS SCARY ENDER GLORY D: (and once again all images are credited to minecraft wiki, I swear I'll start taking my own pictures soon…. honest! Ender chest oooo a gif. Fancy Ender chests are a new, creative and brilliant idea for minecraft. These Ender chests...
4 tags
Pyramids and emeralds.
So some updates are coming out soon so i will show you one of the highlights of them! 1. EMERALDS! (please note that as i don't have the snapshots, i will be taking images from minecraftwiki.com) Finally, a new ore! Emerald ore is green in colour and can only be found in caves in 'Extreme hill' Biomes. They look almost like diamonds but green and more diamond-shaped…....
SO SORRY! D:
I have been really busy recently and our main computer and internet had broken down, but we have new internet! Huzzah! I shall update soon…..ish.
Taking a break from redstone, enchantments
sorry I haven't posted in a while but I will post more about redstone, but not much right now. In the meantime here is a list of all enchantments (just so i have something to post.) First of all you can only enchant tools, (excluding hoes) weapons (swords and bows) and armour. But to do his you need an enchanting table, made with 2 diamonds 4 obsidian and 1 book. When you put it down it...
5 tags
Redstone contraptions Pt 2 Open,shut
As seen in my last post redstone can be activated on and off. But what does this achieve? Other than looking red, well a lighter shade of red. When activated redstone can activate other things, in this post I will show you how to use it to trigger doors. Firstly, here is my new helper, Mr Ificate A charming fellow isn't he? Not to bright though…. Ok so here are the doors that can...
5 tags
Redstone contraptions Pt 1 What is redstone and...
Redstone, Minecrafts version of electricity. It has a million uses, so long as you know how to use them, but seriously how hard could it be? Redstone is found in caves and has the appearance of red blobs in stone. In can only be mined by an iron pickaxe or higher. When mined it drops 4-5 redstone dusts. The cool thing about redstone ore is that when you start to mine hit, or even stand on it...
Sorry for not updating in a while
What the title says, iv'e just been busy at the moment, but i will make one now!
3 tags
Poll results
Ok so my poll closed with a grand total of……… 2 votes. -.- oh well better than nothing! So my next post  we be redstone contraptions!
3 tags
Please vote on my poll!
Hey guys please vote on my poll, it will mean I will make a post on what you want next! The poll is an earlier post so just scroll down please! thanks guys ;)
6 tags
Minecraft update 1.1
Minecraft has had an update! It is not incredibly huge, and rather than adding new things they have really just changed other things. So lets get started on the updates. 1: Bow enchantments. bows can now be enchanted like tools, armour and swords. They can have 4 different enchantments: 1: Power Multiplies power by 1.5 for each level. The level of this enchantment can be from 1-5 so the most...
crownthebryan asked: if you add an extra layer off the end where one line is longer than the other, you get get more distance/power depending on your timing on pressing the second switch. Also try using one switch and a repeater to delay the second current enought to produce the canon effect
Poll
Whatever gets the most votes i will do!
5 tags
How to make a TNT cannon in minecraft!
Need some good defences? A TNT cannon is a great way to make sure nothing will get to your house on minecraft and is very easy to make, but make sure you make it right or you may accidentally blow up you house! What you will need: a stack of blocks that can have redstone and levers placed on them at least 5 tnt (for best effect) i will use 7 2 levers varying amounts of redstone depending...
8 tags
Minecraft and plants!
In minecraft there are many variety of plants and flora (ooo scientific!) All of which have different uses and looks, so here are a list of them! Trees: In minecraft trees are essential to do almost anything, to make tools, to make sticks for tools, to make doors, fences lots of things! Trees come in 4 main varieties. Oak: Oak trees have brown trunks and are generally everywhere (except in...
3 tags
5 tags
TMI!!!!!!
Hey guys! I just got TMI, or "too many items" a mod which is like having creative mode but in survival mode…. this should help a lot more when it comes to making helpful posts about minecraft!!! 
7 tags
Minecraft ores and mining: things you mine in the...
Swords, axes, hoes, shovels, and picks are things you will have to use in the world of minecraft, but stone and wood can only get you so far, so i will be showing you the assortment of minecraft ores. (and some tips on mining) first things first, light. Without it (on any mode but peaceful) enemy mobs will spawn, and it will be harder to see. In order to do this we will need sticks, made from...
Hardcore challenge accepted!
I am going to do a hardcore challenge on minecraft, i will play on hardcore mode and attempt to do the following things:  Build a house Build a farm Make a mob grinder Obtain diamonds Brew some potions Enchant some items GO to the nether and find a nether fortress Get myself a pet ;) I will post afterwards on how I have gone and if anyone else does this please send me pictures of your...
6 tags
Minecraft Tutorial and Challenges part 1: Where am...
Welcome to the first of many posts that i will be making about minecraft, it will be a tutorial to minecraft but will also have greater challenges later on. Before we start there are some things that you may want to know: 1. I will always be playing on normal mode in this world, this means my health will only be restored if the hunger bar is full to 2 bars down. Also this means that enemy mobs...
Minecraft tutorial and challenges!!!
Ok so I decided to start something new, a tutorial!!!! (along with challenges) To put in in short i will be making a new world and then taking screenshots of it along with how to make things, what are things and what to do, and than will add some challanges in as well to make it interesting. See you soon with the first post Minecraft pt 1: Where am I? 
14 tags
Minecraft passive mobs
Of all the mobs in mobs in minecraft, you are bound to see passive mobs. These are mobs that do not harm you and drop helpful items, sometimes however they will run away when you hit them. Let see whos first on the list…. Pigs: Ahhhh pigs, you have become so obsolete, pigs are pink, have snouts, are about half as tall as the player and make grunting noises. Pigs drop raw pork chops,...